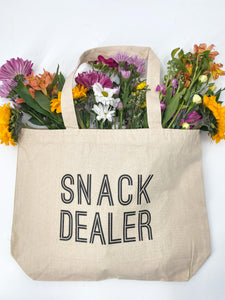 This design was 100% inspired by my real life. Four perpetually hungry children equals a whole lot of snacks that I'm constantly dealing out like it's my job! 

And this roomy Snack Dealer bag is the perfect solution for all your snack dealing needs! So happy snacking!

-This oversized canvas tote has a zipper closure and a small zippered pocket inside.

•Dimensions: 20"W x 15"H x 5"D

•Spot clean only. These canvas totes last longer if you don't machine wash.