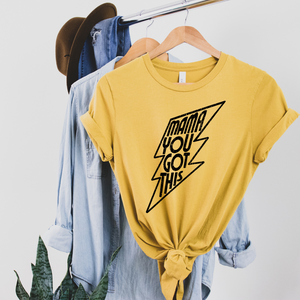 You are called, you are set apart, you have what it takes...Mama you've got this! Everything you need, God has equipped you with. Those babies are yours for a reason, to raise with intentional purpose. We've got this because we're not doing it alone!  
Isaiah 40:11                        

-I am a one mama shop, please allow 7-14 days to ship. Thank you so much for your patience.
-This tee is a unisex cut. I recommend sticking with your normal size.
-50/25/25 polyester/airlume combed and ringspun cotton/rayon